Shadow Shifter Ratings
We have excellent ratings on major marketplaces shown below:.
---
AMAZON 4.5 STARS OUT OF 5 STARS - NEARLY THE HIGHEST RATING YOU CAN GET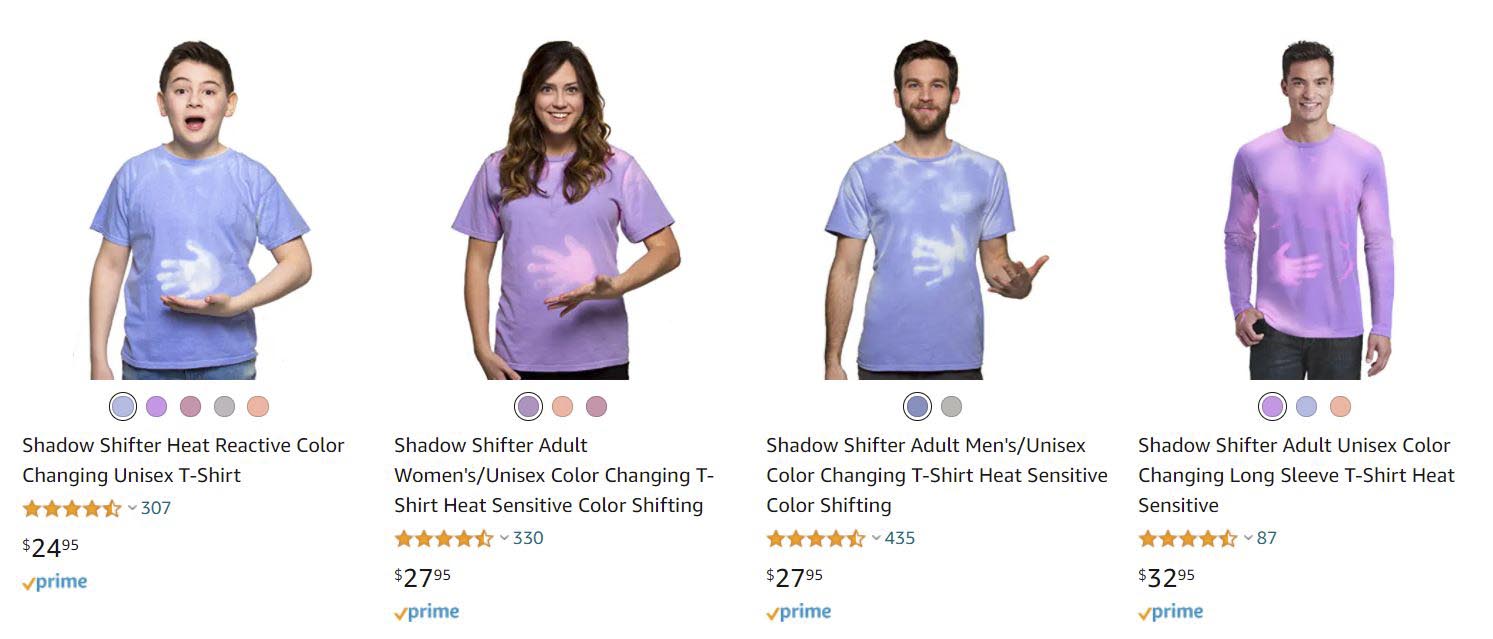 ---
EBAY OVER 2100 FEEDBACK WITH 100% RATING

---
This is a proven high sales product and it will be just as successful in your retail store. There has never been an occasion that we know of where a child says they don't want one.
Shadow Shifter Retail Display
Shadow Shifter is sold in retail brick and mortar stores with our colorful popup cardboard display stand.

The packaging is highly visible to attract attention and shrink wrapped to prevent tampering to maintain the quality of the product.

The stand holds 16 units, 8 of each color blue and purple in sizes YXS, YS, YM nad YL.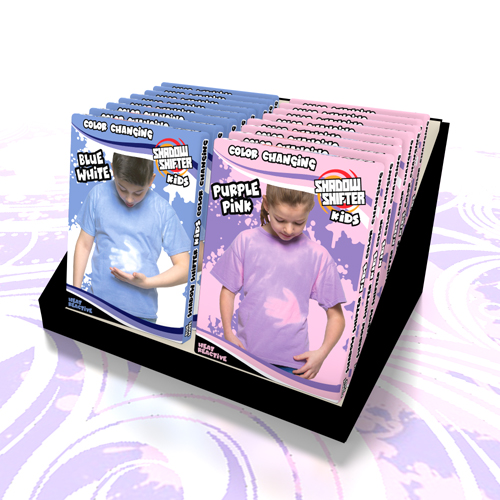 PRODUCT SPECS
Heat Reactive Color Changing
Unisex T-shirts
100% ring spun cotton
Sizes for men, women, boys and girls
Many color changing effects
Pre-shrunk
Machine washable and machine dryable
Made in the U.S.A.
PACKAGING AND DISPLAY
Hygienically sealed tamper-proof packaging
Colorful retail boxed packaging
Sizing chart
Care instructions
Colorful popup display stand
Display stand with small footprint
Recyclable boxes and display
Made in the U.S.A.
BENEFITS
Hygienically sealed tamper-proof packaging
Multi-departmental locations, toys, gaming, apparel etc.
Multi unit sales for the whole family
To experience you must buy to try
All seasons wear
No sun needed to work
Made in the U.S.A. for quick turnaround and quality control
COLOR CHANGING TEES FOR KDIS
Our color changing t-shirts for kids are the most fun a child can have with a t-shirt. The magic just makes them go WOW.

Shadow Shifter® KIDS are unisex for boys and girls with several colors and sizes.